Difficulties…
Remember when I was like, "2020 is gonna be My year!"? Well, things haven't quite started out according to plan… First, I was sick for New Years and was really worried that I wouldn't be able to make it to My planned tattoo appointment on the 7th. Luckily, I was feeling better by the 6th, but when I messaged doughboy to schedule our cash meet so that he could pay Me for the tattoo, he was feeling sick. he still got My money to Me, because he's a good boy who wants to make his Mistress happy no matter what, but I was planning to make him take Me to a local witchy shop that day too and buy Me some ingredients, which we had to not do due to his illness.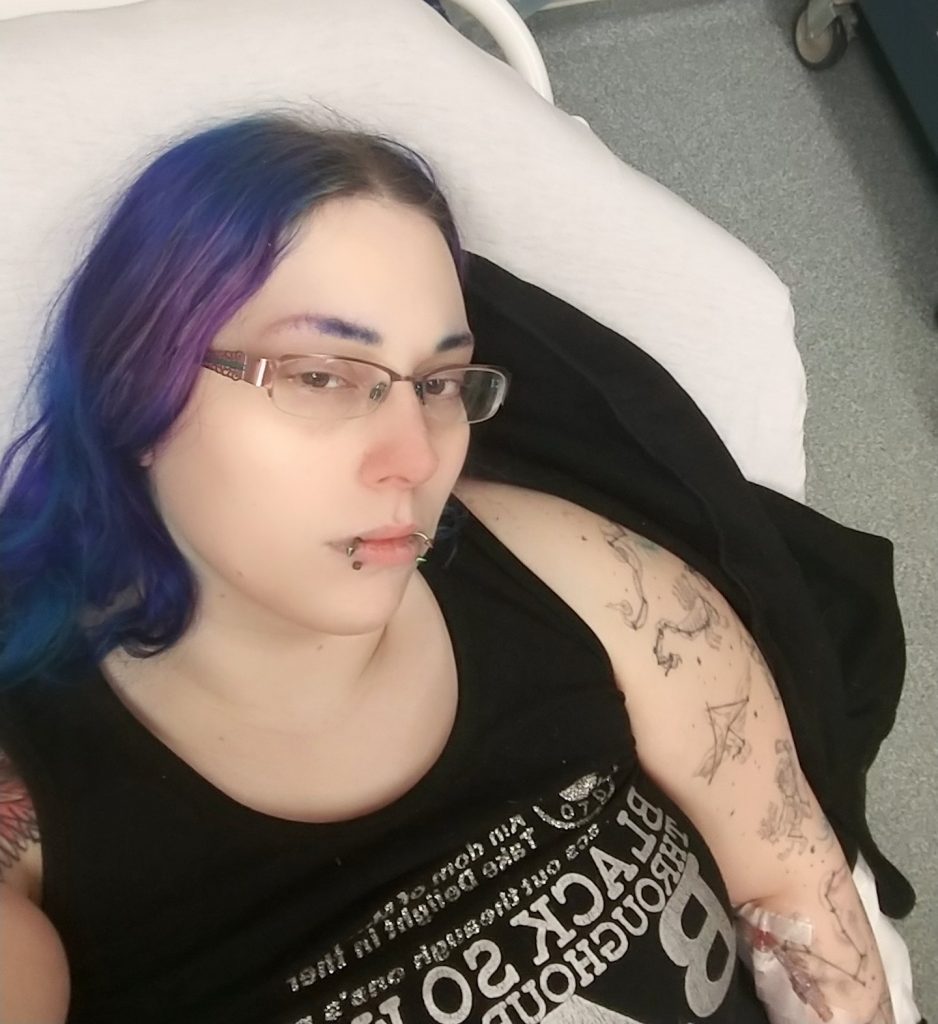 Then again, maybe it wasn't so lucky that I made that tattoo appointment after all… Long story short, the tattoo itself went fine, but I had a local shop put a new covering on it the next day. The person who put the covering on it didn't wash it or put on gloves first. Then 2 days later, I went to the hospital with a skin infection and an abscess… At least My tattoo looks amazing though.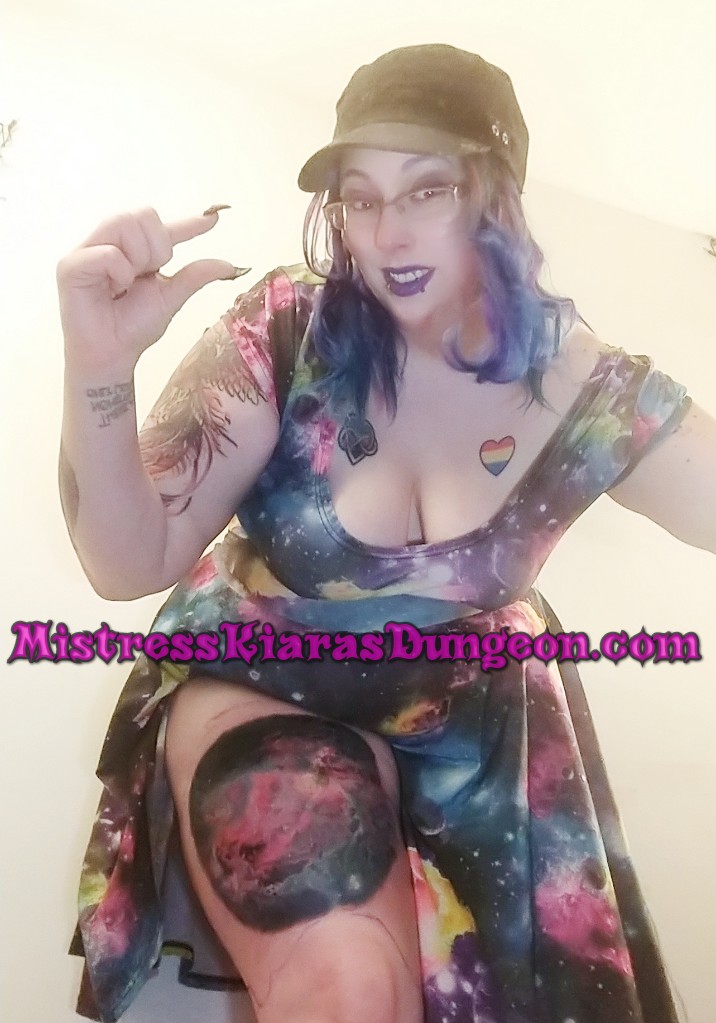 Next, My poor elder cat, Copernicus, got sick. So, of course, I rushed him RIGHT to the vet (to the tune of $300-ish). He had an eye infection, which means we now have to give his grumpy ass eyedrops every day for a week, but the really upsetting news came from his blood panel. He's 15 years old, so he's getting on in years, and he's starting to develop kidney disease. We're taking him for a urinalysis this week to see how far along he is… I'm sure I'll keep you all posted on how he is doing, seeing as he's one of the most important things in My life.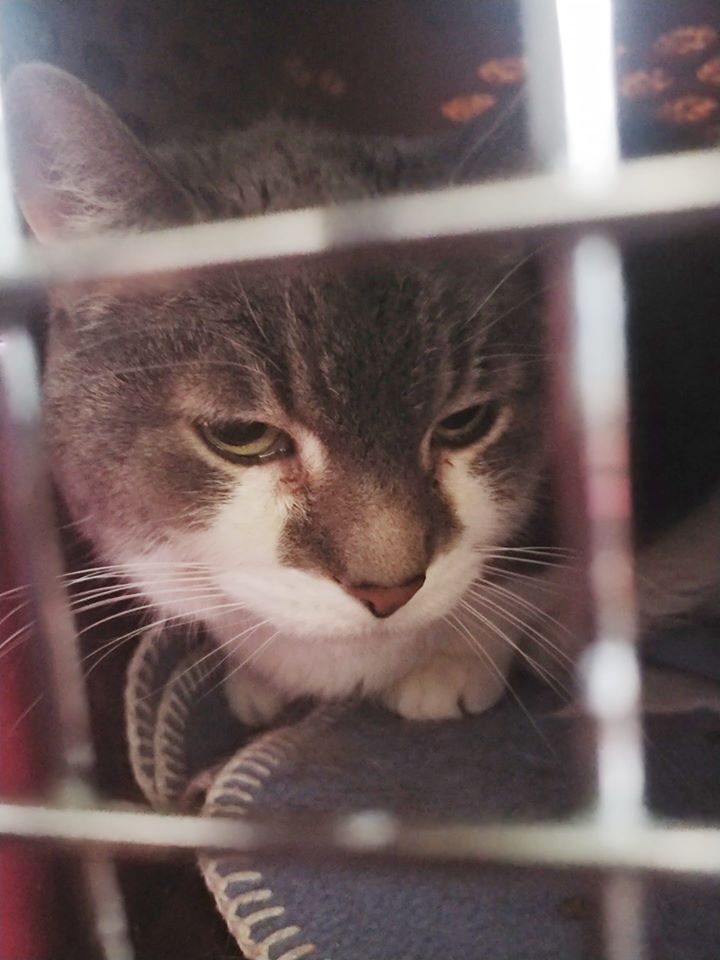 Serious Improvements
But it's not all been bad, and I'm trying not to focus on the negatives too much. In the positives column, I've been keeping a decent facsimile of a schedule. I have a list of things I'm trying to get done each day, each week, and each month, and so far I've been staying on-task almost every day! One of the things on My 'daily' list is to log in to take calls on Niteflirt and IWantPhone every day. I even made a cute little graphic for My weekly schedule. All times are in EST: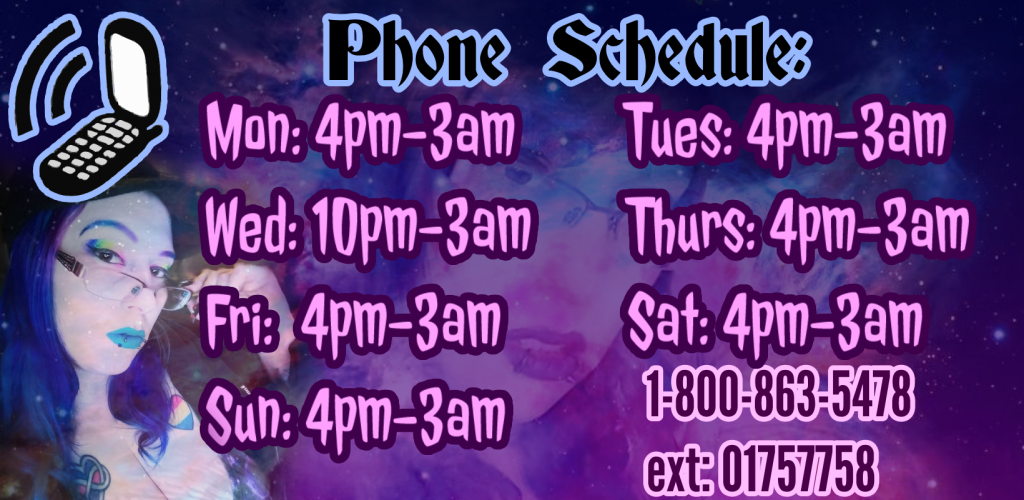 Along with staying on track, I've also achieved one of My lifelong goals! I've always wanted to be a published author, and now I am! I have published the first of 5 parts in what will be a full-length erotic fetish novel. The story is called The Transformation, and it's about how I, Mistress Kiara, transform you from an ordinary guy into cock guzzling cum craving sissy slut! I've been getting GREAT reviews so far, and at only $2.99, what are you waiting for? Check it out now!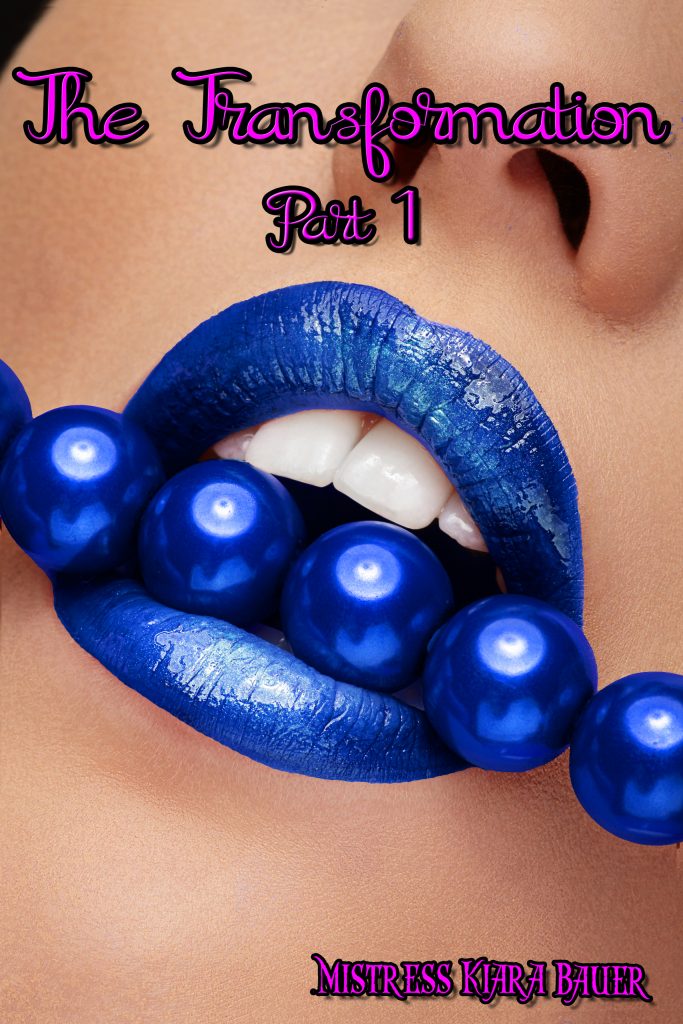 A chance encounter at a local coffee shop throws you head first into the clutches of a sexy, punk rocker Mistress. When Mistress Kiara sees how tiny your package is, She begins an onslaught of well-deserved punishment and humiliation. She openly begins an affair with a stronger man while making you do Her chores! She MAY let you have some fun with Her, too, IF you follow Her rules…
Sissification, cuckolding, cum eating, bi curiosity, and all kinds of sexy femdom fun await you in part 1 of this series! Do you have what it takes to let the transformation begin?
22 pages, roughly 33,600 words. Available in kindle, .epub, or .txt format. Available now on IWantClips, Niteflirt, and Amazon.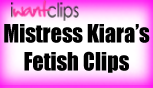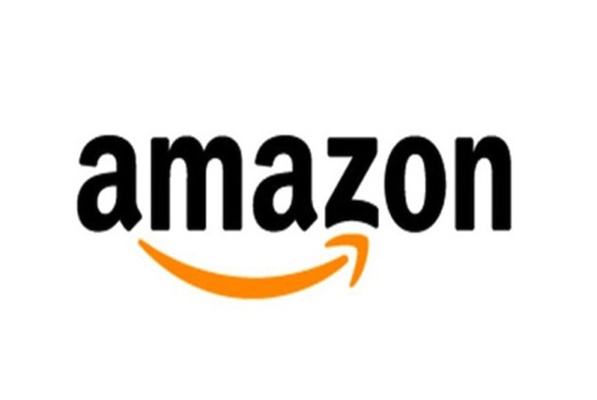 Giveaways
In more good news, I'm currently at 880 followers on My Twitter! Still a far cry from the 9700 or so that I had on My account that got iced in late 2018, but hey, I'm growing by about 10 followers per day. That means I'm closing in quickly on My first 1000 followers! When I get to 1000 followers, I'm going to give away 5 free 1-month subscriptions to My AVN Stars. I'll also be giving away free one month subscriptions between now and Valentine's Day for everyone who purchases Me a gift from My Wishlist. There is one catch though… In order to win, you'll need to be both on My mailing list and also following My Twitter. Both actions are free, and both get free, exclusive content, so what are you waiting for? Do it NOW!
Another smaller but ongoing giveaway I'll be running for the foreseeable future involves Niteflirt. One of the best ways to help your Mistress get better exposure is by leaving good Niteflirt ratings. From now on, anyone who leaves Me a 5 star rating on Niteflirt will get at least one free minute. This includes goody bag purchases, PTV mails, and Niteflirt calls. you know you're going to serve Me and binge on My content anyway, so why not do it now?
Cruise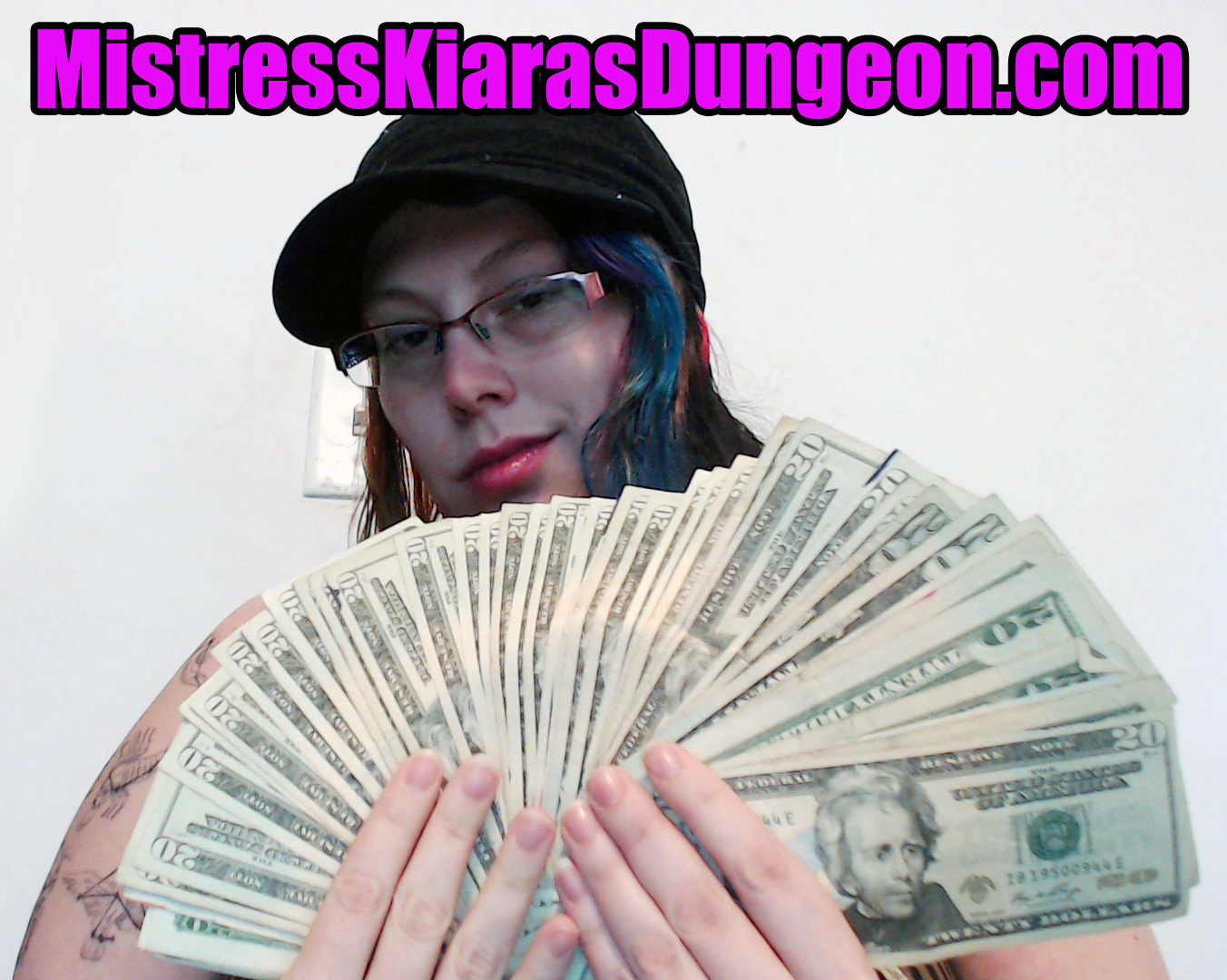 My current goal is saving for a Caribbean cruise! My best friend invited Me to join her on a cruise next January (2021) and I'd like to bring My at least one of My partners. It looks like that will be about a $1500 expense for the cruise that We're planning to go on, but I've made the goal $2000 since the site takes a cut as well. Use any of the payment processors on My Tributes page to contribute!
The Contract – Part 2
Last but certainly not least is this new FREE clip. It's actually part 2 of "The Contract," and I've included a free little preview in the beginning of this clip so that you can see just how hot and fun Part 1 is. I suggest purchasing Part 1 before you watch Part 2 so that you have a better idea of what's going on in this scene. In this clip, I officially collar doughboy and make him sign a slave contract for Me! I read every line to him while he worships My feet, then force him to eat My toenail clippings and foot dust. I fuck his loser ass with 2 different toys, then I rape his wallet and count his cash while smothering his face with My sexy, curvy ass.
New Femdom Content
All of My hot femdom content that I've created since My last blog post…
Free 2 Minute Preview on Dickie Virgin!
How did I miss this clip! For My Birthday in 2018, doughboy and I had our second ever session. doughboy tries to get fresh with Me at My hotel and I put him through the wringer… We start off with some beatdown pummeling, complete with knees to the balls, kicking, and slapping in the face. I move on from there to leg scissoring and a hefty dose of foot worship that he didn't bargain for. Then I bust out My boxing gloves and really go to town on him! Once he's had enough, the real fun begins… I grab a nasty, used pair of panties that I brought and shove them in his mouth. I rub them on his loser face, making him inhale My beautiful scent. I shove My feet in his face again, mingling the scent of My Perfect Feet and My unattainably Perfect Pussy and Ass. When he continues to struggle, I fit him with an RNC and let him slump to the ground. I wrap his head in My panties while he's out, then it's time for some more leg scissors. Once I'm sure he won't be struggling anymore, I climb on top of him for some sexy facesitting smothering. After he's been smothered, he tries to play dumb, but I slap him back to reality and spit in his loser freak mouth for fucking around on Me. I put him on his hands and knees and fuck his loser ass for the very first time, then I finally decide he's had enough… Well… ALMOST… After a little more beat down fun, I drain his wallet and count My cash.
---
This questionnaire will lead you down the path to becoming your true inner sissy. This isn't exactly a quiz, where you answer a few questions and then get told your sissy style; this is a set of 25 prompts to meditate on which will help you to discover your ideal sissy self, along with some pictures for inspiration…
---
In part 1 of The Contract, Mal and Harley are having a romantic evening alone together. Mal ties up Their girlfriend Harley and then leaves to go get something special for them. A masked stranger breaks in and menaces Harley while Mal is gone, but Mal has forgotten Their car keys. Mal rescues Harley by beating up the stranger and unmasking him to reveal it is none other than doughboy! Harley and Mal sissify and tie up doughboy, then pummel him senseless. They rifle through his things and finding some beautiful toe rings that Their friend Kiara will surely love…
---
—Connect With Me—
My Main Website: Mistress Kiara's Dungeon
Find Me Here: All My Links
Amazon wish list: http://www.amazon.com/wishlist/3C5E4AZCW0649
Follow me on Twitter: @HypnoFemdom
email: dominakiara@gmail.com